Electricity at Work - Safe Working Practices, HSG85
HSG85
Author:

Great Britain Health and Safety Executive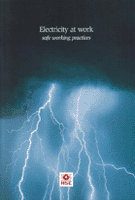 Add to Basket
Each year in the UK, at least 20 people will die from electric shock or electric burns at work and several hundred more will suffer serious burns arising from unsafe working practices. Most of these accidents are preventable and this second edition of Electricity at Work: Safe Working Practices (HSG85) is intended to help organisations avoid electrical injuries to their employees.
This recently updated publication applies to all places of work covered by The Electricity at Work Regulations 1989 and is intended to help duty holders meet the requirements of these regulations. It offers guidance on the key elements you should consider when devising safe working practices for people who work on or near electrical equipment.
The publication includes advice that is relevant to managers and supervisors who control or influence the design, specification, selection, installation, commissioning, maintenance or operation of electrical equipment.
The guidance also provides a set of procedures to help decide whether to work dead or live and advice on actions and precautions that should be taken to ensure safety.