Hand-Arm Vibration, L140
The Control of Vibration at Work Regulations 2005. Guidance on Regulations, L140
Author:

Health and Safety Executive (HSE)

Publisher:

HSE Books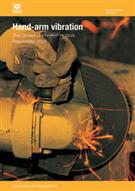 Colour-coded and very user-friendly guide for employers, health and safety advisers, specialists and occupational health professionals concerning the need to reduce and control hand-arm vibration risks.
Reflecting the Control of Vibration at Work Regulations 2005, the coverage is essentially presented in seven easily navigable parts given over three sections:
Part 1 is chiefly concerned with the full meaning of the Regulations.

Parts 2-5 concentrate on specifics which, as well as broad studies such as risk assessment and management control, also explore more detailed issues including the estimation of vibration exposure and arranging health surveillance.

Parts 6-7 provide greater technical and medical guidance on this critical and naturally hidden danger.