Essentials of Health and Safety at Work
4th Edition
Author:

Health and Safety Executive (HSE)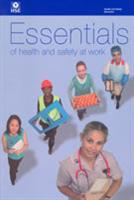 Add to Basket
'Essentials of Health and Safety at Work: 4th Edition' is the new edition of this popular publication which explains what the law requires and helps employers put it into practice. Chapter 1 suggests how to tackle the basics of health and safety and how to identify, assess, and control the activities that might cause harm in a business.
Chapters 2 to 25 are for anyone who may need to know more about a particular health and safety subject. There are several new chapters dealing with, for example, slips and trips, work at height, contractors and agency workers and general fire safety, as well as new sections on subjects such as stress, rehabilitation, and sickness absence.
This publication supersedes all previous editions, including ISBNs 0118854453, 0118854941, 0118839772, and 071760716X.