Working Alone, INDG73
Health And Safety Guidance On The Risks Of Lone Working, INDG73, pack of 10
Author:

Health And Safety Executive (HSE)

Publisher:

HSE Books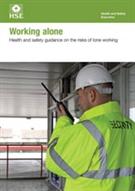 This revised leaflet provides guidance on how to keep lone workers healthy and safe. It is aimed at anyone who employs or engages lone workers, and also at self-employed people who work alone.
Following the guidance in the leaflet is not compulsory, but it should help employers to understand what they need to do to comply with their legal duties towards lone workers under:
the Health and Safety at Work etc Act 1974; and

the Management of Health and Safety at Work Regulations 1999
The revised version brings the advice up to date. It has also been rewritten and redesigned to make the guidance easier to understand.