Recreational Diving Projects, L105
Diving At Work Regulations Approved Code Of Practice And Guidance, L105
Author:

Health And Safety Executive (HSE)

Publisher:

HSE Books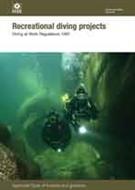 Add to Basket
This Approved Code of Practice and associated guidance provides practical advice and sets out what you have to do to comply with the requirements of the Diving at Work Regulations 1997.
It applies to all recreational diving projects within the 12-mile limit of territorial waters adjacent to Great Britain and applies to diving projects where:
at least one person taking part in the project is employed or self-employed and at work;

the equipment and techniques are confined to free swimming using SCUBA; and

the purpose of the project is recreational diving, that is diving carried out by a person for recreational purposes while not at work
The document covers both the instruction and guiding of people diving for recreational purposes where at least one person taking part is at work, for example as an instructor. It also covers recreational journalists undertaking commissions and producing articles, including stills photography, for the recreational diving press only.
It does not cover recreational diving activities, including instruction or guiding of recreational divers, where no one is at work.
This edition of the Approved Code of Practice has been revised in order to simplify some of the information, update the references and provide greater consistency across all of the Codes of Practice covering diving at work. This document has also been updated to reflect changes in technology and industry practice.
The most significant changes relate to:
Availability of compression chambers. This has been updated to address the provision of sufficient oxygen for the transport of an injured diver to a compression chamber or hospital. The requirement for the recording of the location and contact number of the nearest operational chamber in the Diving Project Plan has also been removed

Fitness to dive. Further information has been provided for divers regarding medical treatment, medical conditions or medication being taken, that may make them unfit to dive
The title is now out of print. Please have a look at publications in this topic area to find alternative guidance. A .pdf version of this publication may be available on the hse.gov.uk website
| | | | |
| --- | --- | --- | --- |
| Extent | N/A | ISBN | 9780717665945 |
| Size | N/A | Price | £15.00 |
| Format | Paperback | Published | 01 Jan 2014 |
| Availability | Out of Print: but may be available to order | Delivery | Delivery options and charges |