Controlling Airborne Contaminants At Work: A Guide to Local Exhaust Ventilation (LEV) 3rd edition., 2017, HSG258
Health and safety guidance HSG258
Author:

Health and Safety Executive (HSE)

Publisher:

HSE Books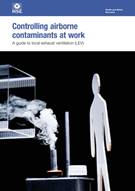 This third edition has been updated to encompass minor amendments and clarifications. Updates to the second edition based on feedback from industry remain.
This guidance is for employers who use, or intend to use Local Exhaust Ventilation (LEV) for example, for dust extraction, powder extraction or welding fume extraction. It will also help suppliers of new LEV equipment. It describes the principles of deciding on, designing, commissioning and testing effective LEV.
The book contains information about:
the roles and legal responsibilities of employers and suppliers;

competence;

principles of good design practice for effective LEV hoods and their classification;

ducts;

air movers;

air cleaners; and

system documentation - with checking and maintenance schedules and the marking of defective equipment.
| | | | |
| --- | --- | --- | --- |
| Extent | 112 pages | ISBN | 9780717666133 |
| Size | N/A | Price | £20.00 |
| Format | Paperback | Published | 29 Nov 2017 |
| Availability | In Stock: 1 - 2 days | Delivery | Delivery options and charges |