Health And Safety At Work Vital Statistics 2016
Vital Statistics 2016
Author:

Health and Safety Executive (HSE)
[?ProductPublisher:9780717666584?]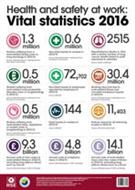 Price:
[?DiscountedPrice:9780717666584?]
Add to Basket
HSE publishes annual statistics on health and safety in Great Britain.
Statistics include:
work-related ill health and disease

workplace injury

enforcement of health and safety legislation

working days lost as a result of health and safety incidents
To tie in with the 2016 release, this new poster visualises the key statistics in an info graphic style, allowing health and safety professionals to easily educate their workforce about the consequences of poor health and safety.