The Management, Design And Operation Of Microbiological Containment Laboratories
Author:

Health and Safety Executive (HSE)

Publisher:

HSE Books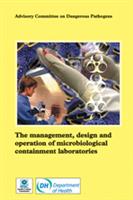 Add to Basket
This latest guidance from The Advisory Committee on Dangerous Pathogens gives detailed technical information on the design, management and operation of containment laboratories, especially Containment Levels 2 and 3.
The guidance expands and explains the legal requirements set out in the biological agents provisions of COSHH, with particular attention to how these requirements influence design, construction and operation of laboratories.
This guidance replaces that given in ACDP 'Categorisation of biological agents according to hazard and categories of containment' and supplements that given in 'Working safely with research animals: Management of infection risks'.
Contents:
Introduction;

Health and safety management in microbiological containment laboratories;

General principles of the design and operation of microbiological containment laboratories;

Principal requirements for Containment Level 2 and 3 laboratories;

Appendices.