The Printer's Guide To Health And Safety
Author:

Health And Safety Executive (HSE)

Publisher:

HSE Books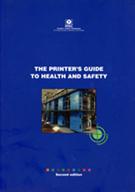 Add to Basket
This publication is a wide-ranging guide to health and safety aspects of the printing industry. It is aimed at both employers and employees and is designed to be the lynchpin for the Printing Industry Advisory Committee's guidance over the next few years.
It outlines the more serious and frequent hazards in the industry and offers advice on how to deal with them. the book provides signposts to other sources of information and sets out the legal requirements affecting printing, providing practical advice on how to meet them.
Contents:
Introduction;

Chapter 1 - Managing health and safety;

Chapter 2 - Training;

Chapter 3 - Workplace and transport safety;

Chapter 4 - Health risks;

Chapter 5 - Process safety;

Chapter 6 - Electricity;

Chapter 7 - Fire and explosion;

Chapter 8 - Maintenance;

Appendices;

References;

Further information; and

Index.