Asbestos - The Analyst's Guide for Sampling, Analysis and Clearance Procedures, HSG248
HSG 248
Author:

Health and Safety Executive (HSE)

Publisher:

HSE Books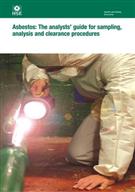 This publication provides advice and guidance for analysts involved in licensed asbestos removal and the sampling of asbestos-containing materials. Aimed at a technical audience, it combines and updates information from previous HSE publications.
Topics covered include:
Quality assurance and accreditation schemes

Training and qualifications for analysts

Bulk sampling and analysis of materials for the presence of asbestos

Sampling and analysis of airborne fibre concentrations

Site assessment and certification for reoccupation

Supervisory work carried out by analysts

Personal protective equipment

Decontamination procedures

Also includes a glossary of acronyms
Amendments to the European Worker Protection Directive to be implemented by 2006 will replace the existing European Reference Method MDHS39/4 Asbesto fibres in air, with the WHO method.
The updated method has been included to allow analysts to become familiar and train with the new method. MDHS39/4 should still be used until the new EU directive is implemented.