Landlords
A Guide To Landlords' Duties: Gas Safety (Installation And Use) Regulations 1998, pack of 15
Author:

Health And Safety Executive (HSE)

Publisher:

HSE Books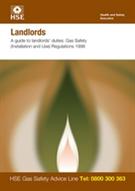 Add to Basket
This revised leaflet is aimed at landlords who let properties with domestic gas appliances. It outlines their duties and warns of the dangers of poor installation and servicing. It also describes telltale signs of a malfunctioning and therefore potentially dangerous appliance.
It includes the details of the new gas installer registration scheme, the Gas Safe Register which replaces CORGI.
Contents:
What type of property is covered?

What are my main duties as a landlord?

Which gas equipment is covered?

Can I delegate duties to a tenant?

What happens if I use a managing agent?

What if the property is sub-let?

What action is required to gain access to property?

How do I know whether the gas engineer is Gas Safe registered?

What if an appliance fails the safety check?

What happens if I don't maintain my tennants' gas appliances?

What action do I take in the event of a gas escape?

Further reading; and

Further information.