EH40/2005 Workplace exposure limits
Containing the list of workplace exposure limits for use with the Control of Substances Hazardous to Health Regulations 2002 (as amended)
Author:

Health and Safety Executive (HSE)

Publisher:

TSO (The Stationery Office)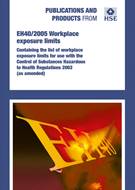 This latest version of EH40 has been updated to include new and revised workplace exposure limits (WELs). It will guide those responsible for controlling exposure to hazardous substances at work.
This edition contains changes to foreword, changes to some of the paragraphs within the document and changes to the limits in table 1.
Many people are exposed to a variety of substances at work (e.g. chemicals, fumes, dusts, fibres) which can, under some circumstances, have a harmful effect on their health. These are called 'hazardous substances'. If exposure to a hazardous substance is not properly controlled it may cause ill health in a number of ways. The substance may cause harm by:
too much being taken into the body through breathing;

being absorbed through the skin;

being swallowed; or

acting directly on the body at the point of contact, e.g. the skin.
| | | | |
| --- | --- | --- | --- |
| Extent | 65 pages | ISBN | 9780717667338 |
| Size | N/A | Price | £19.80 |
| Format | Paperback | Published | 17 Jan 2020 |
| Availability | In Stock: 1 - 2 days | Delivery | Delivery options and charges |