Safe Start ... Featuring NAPO
Ideal For Training New Workers
Author:

Health And Safety Executive (HSE)

Publisher:

HSE Books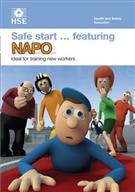 Add to Basket
This animated DVD follows the hapless NAPO as he starts a new job. A series of amusing sketches show him getting to grips with his new workplace - not always with flying colours.
This film is ideal for training new and inexperienced workers and also cuts across language barriers, as there are no speaking parts. It takes a light-hearted approach, but there are serious messages here, presented in a format that will hold people's attention.
The DVD deals with:
The importance of proper health and safety training and instruction;

Urging workers not to hesitate to ask questions; and

The need to pay attention to safety messages, such as fire drills, and location of escape routes.