Fairgrounds And Amusement Parks, HSG175
Guidance On Safe Practice, HSG175
Author:

Health And Safety Executive (HSE)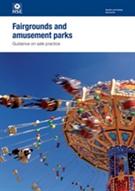 Add to Basket
Revised guidance on what the Fairgrounds and Amusement Parks Joint Advisory Committee on Fairgrounds and Amusement Parks (FJAC) considers appropriate safe measures for the industry to adopt in order to comply with the law.
Acknowledging the inherent nature of fairgrounds and describing how risks can be managed effectively, it also promotes a sensible, over-arching approach recognising that while users expect high safety levels from risks beyond their control, incidental elements, eg a dodgem bump, are considered 'part of the fun'.
The guide, however, concentrates on the safety of employers and employees, as well as the public, and begins with the industry-specific 'system for safety of attractions' presented in easy table-form, which then steers the reader smoothly through the publication.