NAPO In Risky Business
Author:

Health And Safety Executive (HSE)

Publisher:

HSE Books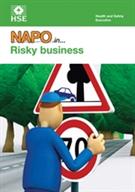 Add to Basket
This animated DVD follows the cartoon character NAPO in a series of sketches dealing with risk assessment in the workplace. It has a light-hearted approach but has serious messages.
The DVD includes chapters on:
Caution hazards;

Assess the risk;

Identify the unknown;

Act on risks;

Risky combination;

Eliminate the risk; and

Safety pays.