Preventing Slips And Trips At Work, INDG225
A Brief Guide, INDG225 REV2, pack of 10
Author:

Health And Safety Executive (HSE)

Publisher:

HSE Books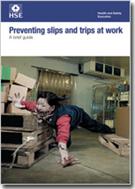 Add to Basket
Slips, trips and falls are the leading cause of major injuries in the workplace. These injuries can be devastating for the individual involved and they generate a huge financial burden on industry. Almost all slips and trips can be prevented, often with simple inexpensive interventions.
This leaflet describes measures that employers may need to implement to help prevent slips and trips. It will also be useful to employees and their safety representatives. The solutions it provides are often simple and low-cost.
This revised version has been updated to make the advice clearer and to include references to more online advice.
The title is now out of print. Please have a look at publications in this topic area to find alternative guidance. A .pdf version of this publication may be available on the hse.gov.uk website