Health and Safety Law Poster - A2
Author:

Health and Safety Executive (HSE)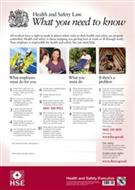 Add to Basket
The Health & Safety Executive (HSE) has published a new, simplified version of the Health and Safety Law Poster. All employers have a legal duty under the Health and Safety Information for Employees Regulations (HSIER) to display the poster in a prominent position in each workplace or provide workers with a copy of the equivalent leaflet.
The poster tells workers what they and their employers need to do to ensure their health and safety in the workplace. In simple terms, using numbered lists of basic points, the poster outlines what employers must do, what workers must do and what to do if there are concerns with health & safety in the workplace.
The new version of the poster has been re-designed, making it both clearly readable and engaging. The poster and pocket card also reflect recent changes in the law to reduce the administrative cost to employers of having to provide additional written information on the poster or with the leaflet. Instead, workers are advised to phone the HSE Infoline to be put in touch with the health and safety enforcing authority for their workplace or with HSE for employment medical advice.
The new poster embodies the Royal Coat of Arms, which means that it can only be reproduced by Crown bodies, using environmentally friendly materials. It incorporates unique security features involving hologram technology and is serially numbered.
Existing copies of the 1999 Health and Safety Law poster must be replaced by the new poster or pocket cards by no later than 5 April 2014. Employers will still be complying with the law if they continue to display the current poster after 6 April 2009. However, where employers do keep the old poster, there will be a continuing duty to keep the additional written information up to date.
This Health and Safety poster is no longer being produced in a semi-rigid format; paper and Welsh versions are available. Pocket cards, easy read, large print and English/Welsh leaflets can also be purchased. Please see below for details.