Health and Safety Law Leaflet: What You Need to Know - Large Print version
Pack of 5
Author:

Health and Safety Executive (HSE)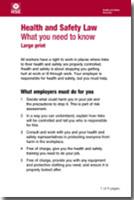 Add to Basket
Health and Safety Law: large print is published by the Health & Safety Executive (HSE) and is a legal alternative to the HSE approved Health and Safety Law poster. This leaflet is suited to issuing to workers, providing them with a personal copy of the health & safety law. All employers are required by law to either provide workers with a leaflet or to display the HSE approved poster.
The large print leaflet is a simple version of the poster. In easy to understand terms, using basic bullet points, the leaflet outlines what employers must do, what workers must do and what to do if there are concerns with health & safety in the workplace.
Existing copies of the 1999 Health and Safety leaflet (ISBN 9780717617029) can still be used until 5 April 2014. After this date the 2009 approved leaflets must be used.
This large print leaflet is supplied as a pack of 5.
Health and Safety law posters are also available, either as a paper encapsulated version (ISBN 9780717663149) or a semi-rigid PVC version (ISBN 9780717663392).