Show me:
How To Tackle Work-Related Stress, INDG430
A Guide For Employers On Making The Management Standards Work, INDG430, pack of 10
Author:

Health And Safety Executive (HSE)

Publisher:

HSE Books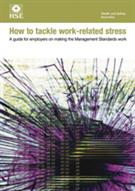 Add to Basket
This revised leaflet replaces MISC714. It explains why employers need to take action to tackle work-related stress and how they can use HSE's Management Standards approach to help them.
The approach is based on the familiar 'Five steps to risk assessment' model, requiring management and staff to work together. The standards refer to six areas of work that can lead to stress if not properly managed. Under each area there are 'states to be acheived', which organisations should work towards.
Contents:
Introduction;

What is stress and why do we need to tackle it?;

What help is available;

Before you start;

Step 1: Identify the risks; The management standards;

Step 2: Decide who might be harmed and how;

Step 3: Evaluate the risks;

Step 4: Record your findings;

Step 5: Monitor and review
Not available in print, please download the free copy here.
Extent
16 pages
ISBN
9780717663781
Size
N/A
Price

£3.50

Format
Leaflet, pack of 10
Published
01 Oct 2009
Availability

Out of Print: but may be available to order

|
Delivery
Delivery options and charges