Industry Guidance (INDG)
Show me:
Manual Handling Assessment Charts (The MAC Tool), INDG383
INDG383, pack of 5
Author:

Health and Safety Executive (HSE)

Publisher:

HSE Books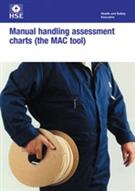 Add to Basket
This leaflet includes the Manual Handling Assessment Charts (MAC). MAC is a tool developed to help users identify high-risk workplace manual handling activities.
Employers and safety representatives can use the tool to assess the risks posed by lifting, carrying and team manual handling activities. It will help them understand, interpret and categorise the level of risk of the various known risk factors associated with manual handling activities. MAC has a numerical and colour coding score system to highlight high-risk manual handling tasks.