Guidance Booklets
Show me:
Workplace Exposure Limits: Containing the List of Workplace Exposure Limits for use with the Control of Substances Hazardous to Health Regulations (as amended) 3rd edition, 2018, EH40/2005
Environmental Hygiene - Guidance Notes EH40/2005
Author:

Health and Safety Executive (HSE)

Publisher:

TSO (The Stationery Office)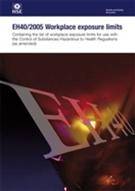 Add to Basket
Many people are exposed to a variety of substances at work (e.g. chemicals, fumes, dusts, fibres) which can, under some circumstances, have a harmful effect on their health. These are called 'hazardous substances'. If exposure to a hazardous substance is not properly controlled it may cause ill health in a number of ways. The substance may cause harm by:
too much being taken into the body through breathing;

being absorbed through the skin;

being swallowed; or

acting directly on the body at the point of contact, e.g. the skin.
Supersedes previous edition (ISBN 9780717664467).