Construction Site Worker Safety Poster Pack
Author:

Health and Safety Executive (HSE)

Publisher:

TSO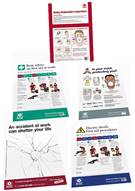 Add to Basket
20% off the price of the separate titles, this new pack delivers great value on these popular posters. Posters are an excellent way to communicate to workers easily, effectively and pictorially.
Electric Shock Poster

Basic First Aid Poster

Filtering Face Pieces Poster

Construction Work Related Ill Health Poster

Is Your Mask Protecting You Poster

An Accident at Work can Shatter Lives pack of mirror stickers
Electric Shock Poster
This poster gives basic advice on first-aid procedures if someone has an electric shock at work. It will help employees to understand what to do if an incident should occur. It is aimed at employees working within a number of industries specifically electricity supply, generation, transmission and utilisation, electrical testing and electrical applications. Statistics include:
work-related ill health and disease

workplace injury

enforcement of health and safety legislation

working days lost as a result of health and safety incidents
Basic Advice on First Aid at Work Poster
This poster shows basic first aid procedures, designed to help employees deal with first aid incidents at work. It incorporates recommendations from the European Resuscitation Council on resuscitation and first aid.
Using Filtering Facepieces
'Using Filtering Facepieces' is an A2 size durable colour poster which is suitable for both indoor and outdoor use and is 100% biodegradable. The poster:
lists a number of recommended pre-use checks

7 diagrams on how to put a filtering facemask on; and

how to check that the facemask fits.
Construction: Work-related Ill Health (poster)
Is Your Mask Protecting You?
Employers have a duty to provide the right equipment to help employees work safely. This new format of INDG460 is presented as a graphic poster which can be displayed at sites where masks should be used. The poster can be used as a reminder to employees to wear masks and as a guide to wearing them effectively.
Do your workers wear a face mask at work? Do they fit their mask properly? Do they always wear their mask when they should? Do they check it and look after it properly?
The original, pocket card version of INDG460 is available in packs of 20.
An Accident At Work Can Shatter Your Life (Sticker Pack of 10)
This is a pack of poster stickers which can be displayed in the work environment. It reinforces and personalises the safety message of "Shattered lives".
The clear, see-through poster can ideally be affixed to mirrors to reflect back to the viewer that they will be the one with a 'shattered life'. It can also be used on glass surfaces such as partitions in offices and indoor premises.
| | | | |
| --- | --- | --- | --- |
| Extent | 5 x Posters, 1 x Sticker Pack | ISBN | 9780717667024 |
| Size | N/A | Price | £38.33 |
| Format | Pack | Published | 09 May 2018 |
| Availability | Out of stock - available to order | Delivery | Delivery options and charges |