Commercial Diving Projects Inland/Inshore, L104
Diving At Work Regulations Approved Code Of Practice And Guidance, L104
Author:

Health And Safety Executive (HSE)

Publisher:

HSE Books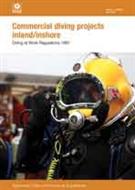 This Approved Code of Practice and associated guidance provides practical advice and sets out what you have to do to comply with the requirements of the Diving at Work Regulations 1997.
It applies to all diving projects conducted in support of civil engineering or marine-related projects and fish farming:
inshore within United Kingdom territorial waters adjacent to Great Britain (generally 12 nautical miles from the low water line);

inland in Great Britain including in docks, harbours, rivers, culverts, canals, lakes, ponds and reservoirs; and

in tanks or swimming pools
This Code does not apply to:
commercial shellfish diving for which the Health and Safety Executive (HSE) has issued specific guidance material; or

diving projects specifically covered by one of the other Codes approved by HSE under the Diving Regulations 1997.
This edition of the Approved Code of Practice has been revised in order to simplify some of the information, update the references and provide greater consistency across all of the Codes of Practice covering diving at work. This document has also been updated to reflect changes in technology and industry practice.
The most significant changes relate to:
Availability of compression chambers. This change is to reflect medical advice and research into time to treatment for decompression illness;

Fitness to dive. Further information has been provided for divers regarding medical treatment, medical conditions or medication being taken, that may make them unfit to dive;

Dive teams. The minimum dive team size for Surface Supplied, SCUBA diving and diving in benign conditions has been changed to ensure consistency between the Codes; and

Partial pressure of oxygen. The maximum recommended partial pressure of oxygen for breathing gases has been changed to 1.4 bar and there is new information on the use of decompression procedures requiring higher levels of oxygen
| | | | |
| --- | --- | --- | --- |
| Extent | N/A | ISBN | 9780717665938 |
| Size | N/A | Price | £18.00 |
| Format | Paperback | Published | 01 Jan 2014 |
| Availability | In Stock: 1 - 2 days | Delivery | Delivery options and charges |