Asbestos Essentials, HSG210
A Task Manual for Building, Maintenance and Allied Trades on Non-licensed Asbestos Work, HSG210
Author:

Health and Safety Executive (HSE)

Publisher:

HSE Books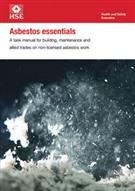 This task manual contains guidance and task sheets on working safely with asbestos.
It is aimed at all workers who may come into contact with asbestos, including electricians, builders, plumbers, carpenters etc. It will be useful to employees, the self-employed and managers.
Although other .pdfs are available online, this third edition is the most up to date printed copy.