Health and Safety Guidance (HSG)
Asbestos Essentials: A Task Manual for Building, Maintenance and Allied Trades of Non-licensed Asbestos Work, HSG210
HSG210, 4th edition, 2017
Author:

Health and Safety Executive (HSE)

Publisher:

HSE Books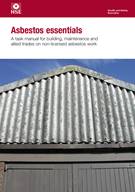 Add to Basket
Designed to be durable, practical and small enough to fit in your toolbox, Asbestos essentials uses a series of task sheets, with over 100 full colour photos and illustrations, to describe 'good practice' for non-licensed tasks and covers the action needed to reduce exposure to an adequate level.
It is aimed at all workers who may come into contact with asbestos, including electricians, builders, plumbers, carpenters etc. It will be useful to employees, the self-employed and managers.
Although the general content/guidance remains the same, this third edition has been updated in line with changes to the Asbestos Regulations and to better reflect asbestos guidance on HSE's website and the Asbestos Approved Code of Practice, L143.
Updates include:
Additional information on risk assessments

Clarification on the requirements for information, instruction and training including the position on certification and refresher training

Updated guidance on notifiable non-licensed work to improve tables and provide information on the relevant authorities to be notified

More clarity around topics on which HSE receives frequent enquiries. For example, using H class vacuum cleaners; using mini enclosures