Assessment Of Repetitive Tasks Of The Upper Limbs (The ART Tool), INDG438
INDG438, pack of 5
Author:

Health And Safety Executive (HSE)

Publisher:

HSE Books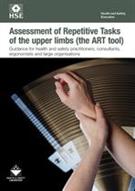 The assessment of repetitive tasks (ART) tool is designed to help you risk assess tasks that require repetitive moving of the upper limbs (arms and hands). It helps you to assess some of the common risk factors in repetitive work that contribute to the development of upper limb disorders (ULDs). ART is aimed at those responsible for designing, assessing, managing and inspecting repetitive work. It can help identify those tasks that involve significant risks and where to focus risk-reduction measures. It will be useful to employers, safety representatives, health and safety practitioners, consultants and ergonomists.
Repetitive tasks are made up of a sequence of upper limb actions, of fairly short duration, which are repeated over and over again, and are almost always the same (eg stitching a piece of cloth, manufacturing one part, packaging one item).
This publication is complemented by the RAPP tool and the MAC tool. Both listed below.
| | | | |
| --- | --- | --- | --- |
| Extent | 16 pages | ISBN | 9780717663934 |
| Size | N/A | Price | £5.00 |
| Format | Leaflet, pack of 5 | Published | 15 Mar 2010 |
| Availability | In Stock: 1 - 2 days | Delivery | Delivery options and charges |