A Guide to the Control of Major Accident Hazards Regulations 1999 - L111
(As Amended)
Author:

Health and Safety Executive (HSE)

Publisher:

SZE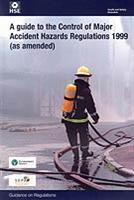 Add to Basket
'A Guide to the Control of Major Accident Hazards Regulations 1999 - L111 (As Amended)', gives detailed advice on the scope of the Regulations and the duties imposed by them. The guidance is aimed at operators of establishments that are covered by the Regulations but will also be useful to others with duties under the Regulations, for example local authorities and emergency vehicles.
The aim of the COMAH Regulations is to prevent and mitigate the effects on people and the environment of major incidents involving dangerous substances.
The amendments broaden the scope of COMAH through changes to Part 2 and Part 3 of Schedule 1. The changes reflect lessons learned from major accidents in Europe since COMAH was introduced and the results of EC working groups on carcinogens and substances dangerous for the environment.