Controlling Noise at Work, L108
The Control of Noise at Work Regulations 2005 - Guidance on Regulations
Author:

Health and Safety Executive (HSE)

Publisher:

HSE Books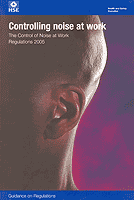 This new edition of L108, 'Controlling Noise at Work', provides guidance for employers on protecting people from the risks caused by noise at work. As well as setting out the legal obligations of employers under the new Control of Noise at Work Regulations 2005, it introduces a revised approach to the management and control of noise in the workplace.
The main parts of the book, aimed at employers and their advisors, provide guidance on the assessment and management of noise risks, practical advice on noise control, buying and hiring of quieter tools and machinery, selection and use of hearing protection and the development of health surveillance procedures.
The various appendices set out advice aimed at providers of technical advice and services to the employer, as well as setting out the legal duties on manufacturers and suppliers of noisy machinery.
Contents:
Introduction

Part 1: Legal duties of employers

Part 2: Managing noise risks: assessment and planning for control

Part 3: Practical noise control

Part 4: Selecting quieter tools and machinery

Part 5: Hearing protection: Selection, use care and maintenance

Part 6: Health surveillance for hearing damage

Appendices

References

Further information