Safety In Docks, L148
Approved Code Of Practice And Guidance, L148
Author:

Health And Safety Executive (HSE)

Publisher:

HSE Books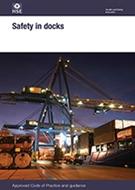 L148 Safety in Docks: Approved Code of Practice and guidance (ACOP) covers safety in dock operations and is aimed at those who have a duty to comply with provisions of the Health and Safety at Work etc Act 1974. This includes people who control dock premises, suppliers of plant and equipment, dock employers, managers, safety officers, safety representatives and workers.
The ACOP has been developed through close consultation with employer and employee representatives, and has been designed to address both the larger end of the industry as well as those engaged in dock work in small harbours. The focus is on helping dutyholders of all sizes to easily understand the key requirements needed to comply with the general duties of the Health and Safety at Work etc Act 1974 and other relevant statutory provisions.
This publication also provides details of relevant guidance that has been developed by the Health and Safety Executive, Port Skills and Safety and Unite the Union and others to help employers, employees and the self-employed to comply with the law.
This ACOP only addresses some specific dock-related issues and complying with this ACOP alone will not be sufficient to fulfil your duties under health and safety law. You will also need to refer to other ACOPs and Regulations for more general matters.
Background:
The Docks Regulations 1988 will be revoked on 6 April 2014. The associated ACOP, COP25 Safety in docks, will also be withdrawn on that date. The Docks Regulations 1988 and COP25 Safety in docks will remain in force up to and including 5 April 2014.
A new ACOP L148 Safe work in ports will apply from 6 April 2014.
A draft version of L148 Safety in Docks is now available for download, or you can pre-order a printed copy which will be dispatched after 6 April 2014. Please note that if you download a copy before 6 April 2014, the draft may be subject to further change before the ACOP formally comes into effect.
| | | | |
| --- | --- | --- | --- |
| Extent | N/A | ISBN | 9780717665723 |
| Size | N/A | Price | £18.00 |
| Format | Paperback | Published | 10 Apr 2014 |
| Availability | In Stock: 1 - 2 days | Delivery | Delivery options and charges |