Show me:
Control Of Substances Hazardous To Health In The Production Of Pottery, L60
The Control Of Substances Hazardous To Health Regulations 1994. The Control Of Lead At Work Regulations 1998. The Workplace (Health Safety And Welfare) Regulations 1992. Approved Code Of Practice, L60
Author:

Health And Safety Executive (HSE)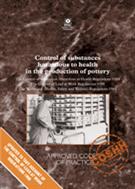 Contains the Approved Code as aligned to the three regulatory sets - cited within - and is accordingly addressed to owners and managers of all potteries, enforcement officers, supervisors and safety representatives.
Applicable where persons are, or liable to be, exposed to hazardous substances in pottery production, the preparation of raw materials for use in (and production of) pottery bodies, glazes and colours, and the manufacture of lithographic and other transfers used in pottery decoration.
Documents the approved method for determining low solubility glaze and also considers use of control measures, exposure monitoring, health surveillance and matters of information, instruction and training. Styled presentation (eg bold, italics, margin coding) enables easy distinction between texts pertaining to the regulatory sets and the Approved Code.
This title is only available as a free PDF download via the link below.
| | | | |
| --- | --- | --- | --- |
| Extent | 31 pages | ISBN | 9780717608492 |
| Size | N/A | Price | £15.00 |
| Format | Paperback | Published | 26 Apr 1995 |
| Availability | Out of Print: but may be available to order | Delivery | Delivery options and charges |