Show me:
A Guide To The Gas Safety (Management) Regulations 1996, L80
L80
Author:

Health And Safety Executive (HSE)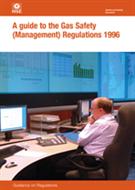 Guidance aligned to the Regulations - cited within - addressed to gas transporters and other parties (eg gas shippers and terminal operators) to assist understanding of compliance requirements and, in particular, what information is required by HSE for acceptance of their safety case.
Also advises duty holders on how they must co-operate with those preparing safety cases. In addition to broad regulatory specifics - such as examining the duties for those conveying gas, matters of conformity, document keeping and transitional provisions - the guidance also considers other critically relevant details duty holders must be aware of, such as the content and characteristics of gas.
Styled presentation (eg bold, italics, margin-coding) enables easy distinction between texts pertaining to the Regulations and the additional guidance.
| | | | |
| --- | --- | --- | --- |
| Extent | 56 pages | ISBN | 9780717611591 |
| Size | N/A | Price | £18.00 |
| Format | Paperback | Published | 23 May 1996 |
| Availability | In Stock: 1 - 2 days | Delivery | Delivery options and charges |