Show me:
Control Of Lead At Work (Third edition), L132
Control of Lead at Work Regulations 2002. Approved Code of Practice and Guidance, L132
Author:

Health and Safety Executive (HSE)

Publisher:

HSE Books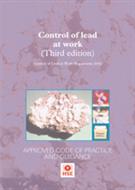 The Approved Code and accompanying guidance is aligned to the Regulations and emphasise that excessive exposure to lead has been a long-recognised health hazard.
Accordingly this documents how to manage such risks and satisfy the requirements applicable to activities, eg handling, processing, repairing, maintenance, storage, disposal - liable to expose employees and others to metallic lead, its alloys and compounds (including alkyls), or when it is a component of another substance or material.
For clarification, the lead form must be either inhalable (dust, vapour or fumes), ingestible (powder, dust, paint or paste) or skin absorbable (alkyls or naphthenate). Styled presentation (eg bold, italics, margin coding) aids easy distinction between texts pertaining to the Regulations, the Approved Code or additional guidance.
This title is only available as a free PDF download via the link below.
| | | | |
| --- | --- | --- | --- |
| Extent | 122 pages | ISBN | 9780717625659 |
| Size | N/A | Price | £22.00 |
| Format | Paperback | Published | 06 Dec 2002 |
| Availability | Out of Print: but may be available to order | Delivery | Delivery options and charges |