Show me:
Health And Safety In Care Homes, HSG220
HSG220
Author:

Health and Safety Executive (HSE)

Publisher:

HSE Books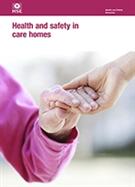 This guidance is intended to help those providing and managing care homes to give them a better understanding of the real risks and how to manage them effectively. It has been extensively rewritten, with a number of new topics, and brings together key messages on risks to both workers and residents. It will also be of interest to others working in social care.
This new edition is being published in a period of change. At the time of publication (June 2014), HSE and local authorities investigate serious worker and resident incidents. Under the Enforcing Authority Regulations, HSE regulates homes with nursing and local authority owned or run care homes. Other homes are regulated by local authorities.
It is anticipated, however, that the Care Quality Commission (CQC) in England will soon become the lead investigator of incidents where residents have been harmed because of unsafe or poor quality care. These, and any other changes in regulation across Great Britain, will be reflected in future editions.
This title is only available as a free PDF download via the link below.
| | | | |
| --- | --- | --- | --- |
| Extent | 72 pages | ISBN | 9780717663682 |
| Size | N/A | Price | £19.80 |
| Format | Paperbook | Published | 01 Jun 2014 |
| Availability | Out of Print: but may be available to order | Delivery | Delivery options and charges |