Show me:
Explosives Regulations 2014, L150
Guidance on Regulations Safety Provisions, L150
Author:

Health and Safety Executive (HSE)

Publisher:

HSE Books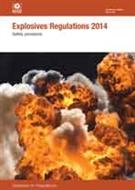 Subject to Parliamentary approval, the Explosives Regulations 2014 will come into force on 1 October 2014, and the Approved Code of Practice to the Manufacture and Storage of Explosives Regulations 2005 will be withdrawn.
The Approved Code of Practice and guidance in L139 Manufacture and storage of explosives. Manufacture and Storage of Explosives Regulations 2005. Approved Code of Practive and Guidance applies up to and including 30 September 2014. You can download it for free or buy a printed version.
From 1 October 2014 when the Explosives Regulations 2014 come into effect, the guidance in L150 will apply. A draft version of L150 is available for download, or you can order a printed copy, which will be despatched after 1 October 2014. Please note that if you download a copy before 1 October 2014, the draft may be subject to further change before the Explosives Regulations come into effect.
About this guidance
This publication is for anyone who has duties under the safety provisions of the Explosives Regulations 2014, particularly employers, private individuals and other people manufacturing explosives, storing larger quantities of explosives or storing explosives that present higher hazards.
It provides overarching guidance on how the safety provisions of the Regulations should be met. It is supported by subsector guidance published elsewhere. You should use the relevant subsector guidance to support and supplement this guidance.
L150 Safety provisions should be read alongside L151 Security Provision.
What has changed?
Merging registrations into the licensing system

Allowing local authorities to issues licences up to 5 years, aligning them with equivalent HSE/police-issued licences

Extending licensing to address storage of ammonium nitrate blasting intermediate (ANBI)

Exceptions for keeping desensitised explosives without a licence have been updated

The restructuring of tables of separation distances to allow for sites with more than one store. The tables have also been revised to cover quantities of explosives greater than 2000kg

5kg exception for keeping explosives without a licence limited to Hazard Type 3 and Hazard Type 4
The repeal of the Fireworks Act 1951, as it has been superseded by the Pyrotechnic (Safety) Regulations 2010.
| | | | |
| --- | --- | --- | --- |
| Extent | N/A | ISBN | 9780717665518 |
| Size | N/A | Price | £22.00 |
| Format | Paperback | Published | 01 Oct 2014 |
| Availability | In Stock: 1 - 2 days | Delivery | Delivery options and charges |