Show me:
Safety Signs And Signals, L64
The Health And Safety (Safety Signs And Signals) Regulations 1996 - Guidance On Regulations, L64
Author:

Health And Safety Executive (HSE)

Publisher:

HSE Books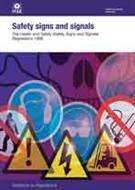 This guidance is for employers, dutyholders and others who have responsibility for the control of workplaces, sites and premises. It is also for those operating equipment that requires verbal and/or non-verbal communications.
It sets out what you should do to comply with the Health and Safety (Safety Signs and Signals) Regulations 1996.
Safety signs and signals are required where, despite putting in place all other relevant measures, a significant risk to the health and safety of employees and others remains.
Signs must be clear and legible, and should be used to identify actions that are prohibited (eg no access), safeguards that must be followed (eg ear protection must be worn), warning of a hazard (eg corrosive material) and to direct towards fire exits/equipment or first-aid equipment.
You should avoid using too many signs which may cause confusion.
The Regulations enact in UK law an EU Directive designed to harmonise signs across the EU so that signs across the member states will have the same meaning whichever country they are used in. Details of BS EN ISO 7010 are also included in the guidance.
This edition brings the document up to date with regulatory and other changes, including those relating to the Classification, Labelling and Packaging of Chemicals (Amendments to Secondary Legislation) Regulations 2015. The version of the Regulations included in the document has been amended to reflect those changes.
| | | | |
| --- | --- | --- | --- |
| Extent | N/A | ISBN | 9780717665983 |
| Size | N/A | Price | £19.80 |
| Format | Paperback | Published | 01 Jun 2015 |
| Availability | In Stock: 1 - 2 days | Delivery | Delivery options and charges |