Show me:
Safety Of Pressure Systems, L122
Pressure Systems Safety Regulations 2000. Approved Code of Practice and Guidance on Regulations, L122
Author:

Health and Safety Executive (HSE)

Publisher:

HSE Books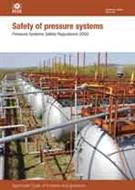 The Pressure Systems Safety Regulations 2000 (PSSR) cover the safe design and use of pressure systems. The aim of PSSR is to prevent serious injury from the hazard of stored energy (pressure) as a result of the failure of a pressure system or one of its component parts.
The revised PSSR ACOP and guidance is aimed at dutyholders under PSSR who are involved with pressure systems used at work. It is for users, owners, competent persons, designers, manufacturers, importers, suppliers and installers of pressure systems used at work.
Since the last edition, the ACOP and guidance has been updated for clarity. The content has not been radically changed, as it was fit for purpose. The main changes to this publication are as follows:
The decision tree on whether PSSR applies has been moved to the front of the book and explanatory notes have been added to it, to help readers decide if PSSR applies to them or not

A new Appendix has been added to provide clarity on how to apply PSSR in a proportionate manner to small pressure vessels in schools.

The section on the legal background to PSSR and related legislation has been removed as it was out of date
The Regulations themselves have not changed at all, so dutyholders' responsibilities remain unchanged.
Other formats available:
| | | | |
| --- | --- | --- | --- |
| Extent | N/A | ISBN | 9780717666447 |
| Size | N/A | Price | £19.80 |
| Format | Paperback | Published | 01 Jun 2014 |
| Availability | In Stock: 1 - 2 days | Delivery | Delivery options and charges |