Show me:
Landlords: A Guide to Landlords' Duties Gas Safety (Installation and Use) Regulations 1998, INDG285 Rev.3 (pack of 10)
Industry guidance leaflet INDG285 Rev. 3 / INDG 285 Rev. 3
Author:

Health and Safety Executive (HSE)

Publisher:

TSO (The Stationery Office)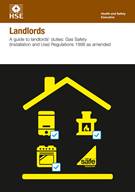 A landlord is anyone who rents out a property they own under a lease or a licence that is shorter than seven years. As a landlord, you are legally responsible for the safety of your tenants in relation to gas safety.
Every year about 14 people die from carbon monoxide poisoning caused by gas appliances and flues which have not been properly installed or maintained. Many others also suffer ill health. The Gas Safety (Installation and Use) Regulations 1998 as amended specifically deal with the installation, maintenance and use of gas appliances, fittings and flues in domestic and certain commercial premises. They place duties on certain landlords to ensure that gas appliances, fittings and flues provided for tenants' use are safe. These duties to protect tenants' safety are in addition to the more general ones that landlords have under the Health and Safety at Work etc Act 1974 and the Management of Health and Safety at Work Regulations 1999.
This publication is aimed at landlords and explains some of the main requirements of the Gas Safety (Installation and Use) Regulations 1998 as amended by the Gas Safety (Installation and Use) (Amendment) Regulations 2018. It also gives guidance on how to comply with them. This will also be of interest to tenants, making them aware of landlords' duties.
The changes included are to:
Introduce a degree of flexibility to the timing of landlords' annual gas safety checks. This MOT-style change means that landlords can carry out the annual gas safety check in the two months before the due date and retain the existing expiry date. This avoids landlords waiting until the last minute and not gaining access, or having to shorten the annual cycle check to comply with the law. There is no change to the legal requirement for an annual gas safety check or for maintenance to be carried out

Incorporate an existing exemption into law to carry out alternative checks in situations where there is no meter to directly measure the heat input and it is not possible to measure the operating pressure, and extend the scope slightly to include situations where the meter is not accessible or the meter display is not working

Disapply most of the requirements of GSIUR for installations fed by a dedicated gas supply, which are primarily used to supply compressed natural gas (CNG) to vehicles and which incorporate at least one gas compressor with an electric motor input power rating exceeding 5 kilowatts, bringing them in line with other industrial premises. Other more appropriate regulations already apply to these premises
This title is only available as a free PDF download via the link below.
| | | | |
| --- | --- | --- | --- |
| Extent | N/A | ISBN | 9780717666805 |
| Size | N/A | Price | £8.25 |
| Format | Leaflet, pack of 10 | Published | 18 Apr 2018 |
| Availability | Out of Print: but may be available to order | Delivery | Delivery options and charges |