Health and Safety Recording and Reporting Pack
Save 20% on this promotional pack!
Author:

Health and Safety Executive (HSE)

Publisher:

TSO (The Stationery Office)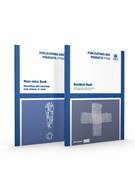 Accident Book BI 510: 2018 Edition
The Accident Book is an essential document for employers and employees, who are required by law to record and report details of specified work-related injuries and incidents.
It enables businesses to comply with legal requirements under social security and health and safety legislation, including Reporting of Injuries, Diseases and Dangerous Occurrences Regulations (RIDDOR) requirements.
Near-miss Book: Recording and reporting near misses at work
Near misses are less severe than accidents. However, near misses should not be ignored or treated lightly, as they can provide valuable insight into how well you are managing health and safety in your workplace.
This record book will allow you to see if there are any patterns in when or how things go wrong. A pattern of near misses provides an early warning that something needs attention. It makes good business sense to be proactive and take action early when problems are likely to be less serious.
| | | | |
| --- | --- | --- | --- |
| Extent | 2 x Books | ISBN | 9780717667437 |
| Size | N/A | Price | £13.39 |
| Format | Paperback | Published | 26 May 2021 |
| Availability | In Stock: 1 - 2 days | Delivery | Delivery options and charges |