Workplace Health, Safety And Welfare, L24
Workplace (Health, Safety and Welfare) Regulations 1992. Approved Code of Practice and Guidance, L24
Author:

Health and Safety Executive (HSE)

Publisher:

Health and Safety Executive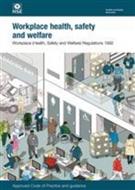 The Workplace (Health, Safety and Welfare) Regulations 1992 cover a wide range of basic health, safety and welfare issues and apply to most workplaces (except those involving construction work on construction sites, those in or on a ship, or those below ground at a mine).
The book includes the Regulations in full, as well as the Approved Code of Practice and guidance. It will help employers understand the regulatory requirements on issues such as ventilation, temperature, lighting, cleanliness, room dimensions, workstations and seating, floor conditions, falls or falling objects, transparent and translucent doors, gates and walls, windows, skylights and ventilators, traffic routes, escalators, sanitary conveniences and washing facilities.
This revised and updated version takes account of changes to legislation since the previous edition was published, including:
Quarries Miscellaneous Health and Safety Provisions Regulations 1995;

Quarries Regulations 1999;

Work at Height Regulations 2005;

Construction (Design and Management) Regulations 2007; and

Health and Safety (Miscellaneous Repeals, Revocations and Amendments) Regulations 2002.
Other formats available:
| | | | |
| --- | --- | --- | --- |
| Extent | 60 pages | ISBN | 9780717665839 |
| Size | N/A | Price | £19.80 |
| Format | Paperback | Published | 01 Nov 2013 |
| Availability | In Stock: 1 - 2 days | Delivery | Delivery options and charges |