Show me:
A Guide To The Offshore Installations And Pipeline Works (Management And Administration) Regulations 1995 (Second Edition), L70
Guidance On Regulations, L70
Publisher:

HSE Books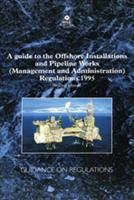 Guidance aligned to the Regulations - cited within - covering an extensive list of managerial and administrative duties on such offshore sites. Addressed to an equally broad range of parties, such as installation operators or owners, employers, managers, safety representatives and committee members.
First among duties for consideration is the notification to HSE of changes in owner or operator (as applicable) or movement of installations into or out of UK waters. Other considerations include matters concerning permit-to-work systems, records of persons on board, communication, monitoring meteorological information, requirements for identification by sea and air, health surveillance, food and water provision and helideck arrangements.
Styled presentation (eg bold, italics, margin coding) enables easy distinction between texts pertaining to the Regulations and the additional guidance.
This title is only available as a free PDF download via the link below.
| | | | |
| --- | --- | --- | --- |
| Extent | 46 pages | ISBN | 9780717625727 |
| Size | N/A | Price | £19.80 |
| Format | Paperback | Published | 04 Oct 2002 |
| Availability | Out of Print: but may be available to order | Delivery | Delivery options and charges |